Below is the complete text of a reportage from the Immortal Regiment in Frankfurt-am-Main:
---
The "Immortal Regiment" broke through the prohibitions in Germany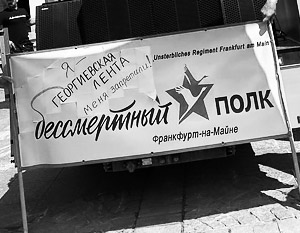 (The white taped-over field in the upper left corner carries the text: "I am the St.George ribbon. I've been forbidden.")
The marches of the "Immortal Regiment" took place all over Europe, but especially vividly in Germany
May 9, 2022, 16:20
Photo & text: Marina Khakimova-Gatzemayer
Frankfurt-am-Main
"I am an American. I go to your Russian rallies." This unexpected meeting took place in Germany, where the Russian residents of this country held one of the numerous marches of the "Immortal Regiment" around the world. One of the participants of the action, a correspondent of the newspaper VZGLYAD, described her emotional impressions of what was happening.
– Last year there were so few of us at the march of the "Immortal Regiment" in Frankfurt that I had to carry the portrait of my grandfather in one hand and the shaft of our banner in the other. There was no one to take it. And now, look how many of us there are! – my friend Galya tells me, happily looking around at the people gathered at the Frankfurt "Immortal Regiment". We have become friends with Galya in recent months – at rallies and demonstrations that the Russian-speaking population of Germany holds almost every week.
May 8 in Germany is officially the day of the end of the war. May 9 is a normal working day on which processions are prohibited. So our patriots had to celebrate the Victory over fascism on the eighth. Frankfurt is flooded with sunshine and packed with Ukrainian flags, pro-Ukrainian posters, portraits of Zelensky with the face of a martyr, anti-Russian street installations. We are already used to feeling like outcasts here.
They were preparing for the march for a month, texting, calling up, sharing news: "The government will ban the Immortal Regiment," "No, it will only ban the Victory Banner," "Military songs, anthems, marches are prohibited. Will we sing ditties about Hitler?", "We were allowed only flowers and portraits of veterans, but the shaft on the portrait should not be more than a meter!", "Maybe we should dress in the colour of the St. George ribbon?", "In German social networks they write that everyone who comes to the "Immortal Regiment" will be evicted from Germany by force", "Take your passports with you, everyone who celebrates Victory Day will be checked for German citizenship!", "Where to buy a Russian banner?"