Not much room for humour today… The Ukrainian army did another deliberate terrorist strike with the American-supplied 155mm M-777 howitzers (per early reports) at the civilian areas in Donetsk and Makeevka, targeting school, kindergarten, residential areas. 5 people are dead, and 12 wounded, as per the latest reports. One of the killed is a child, born in 2009
This constitutes a war crime on the Ukrainian part, with USA being an accessory to murder. Later reports talk about rocket artillery "Smerch" with cluster warheads (war crime when used against civilian targets!).
UPDATE 31.05.2022: The dastardly Ukrainian terrorist attack on THREE SCHOOLS yesterday was premeditated by Ukraine – 30th of May is traditionally the end of school year, a time when both kids, their parents and teachers gather at schools to celebrate. This year such celebrations of the school-year-end were prudently cancelled. If not, the death toll among the children would have been hundred-fold!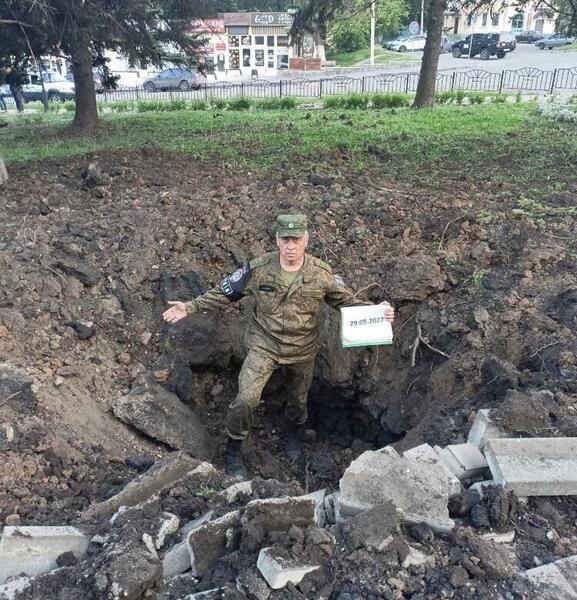 UPDATE! Ukraine is on a murderous spree. A new artillery attack, this time striking a playground in Stahanov town in Lugansk, left two pregnant women dead, 15 people, including 4 children wounded!
The moment of the artillery strike was captured on video when an interview was conducted at a house nearby:

UPDATE 31.05.2022: 2 killed including 5-YEAR-OLD GIRL by Ukrainian army strike in Makeevka, Donetsk People's Republic.
More on this morning's attack on the residential areas of eastern part of Donetsk:

"Military investigators of the RF IC visited the sites of today's shelling of the Donetsk city centre. A criminal case has been opened on the fact of this crime. The culprits will be identified!"
Photo evidence on the Chronicles of the Conflict channel. Must be viewed in Telegram:
The number of victims increased to 20 people: 6 were killed and 14 were injured

The results of the shelling

Two 14-year-old girls were injured as a result of the shelling of the Budennovsky district of Donetsk. One of them died, the second was hospitalized in a medical facility.

As a result of hitting school № 22 in the center of Donetsk, two people were killed and more than ten were injured
💥Consequences of the shelling of the multidisciplinary lyceum No. 5 in one of the central district of Donetsk. Today, a female civilian died as a result of shelling here